LIASE Group Attends CES 2019
April 06, 2019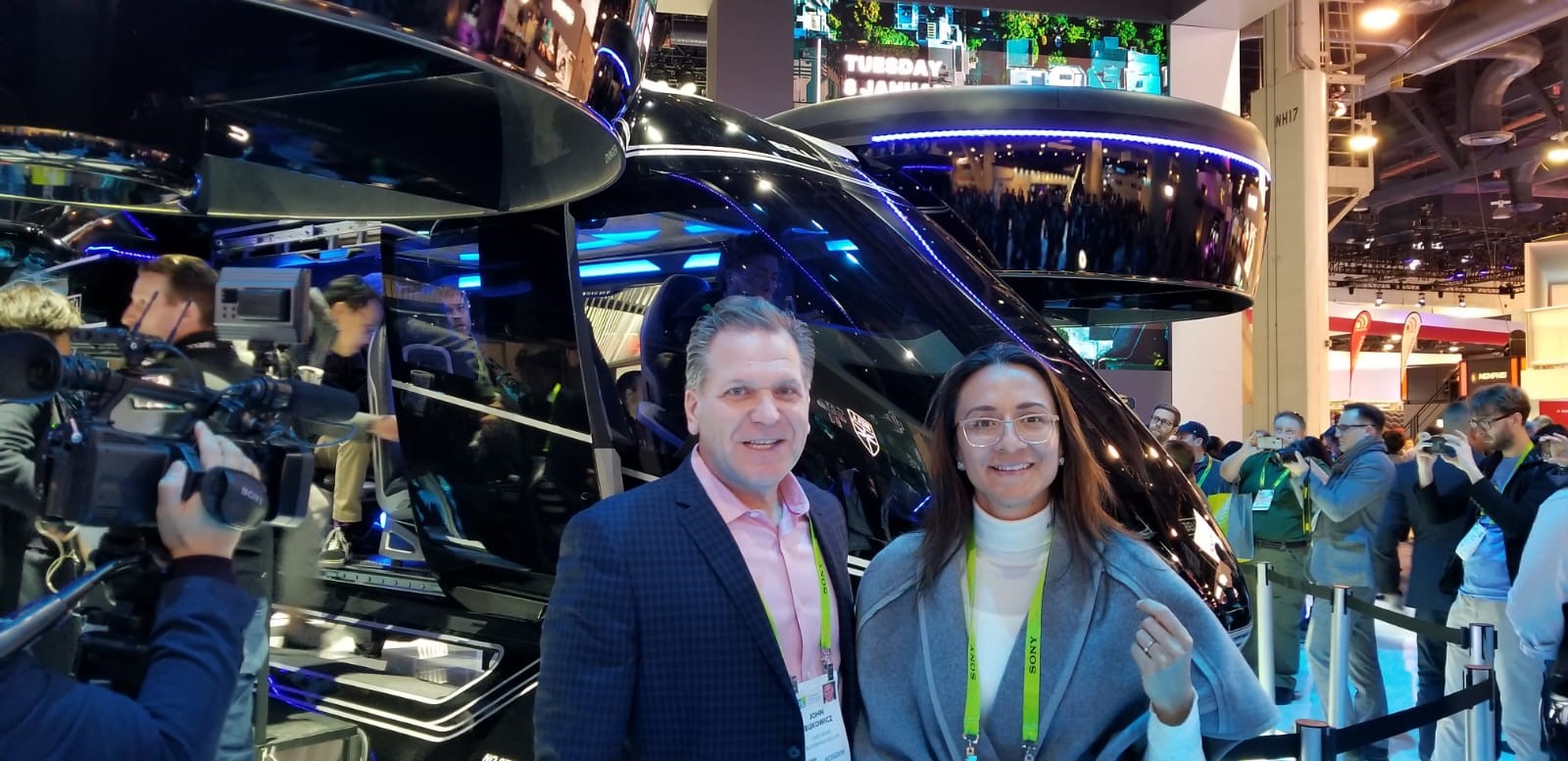 John and Vanessa stand in front of the Bell Nexus at CES 2019.
LIASE Group attended the 2019 edition of the Consumer Electronics Show from January 8 – 11 in Las Vegas. More than 4,500 exhibitors showcased the latest tech innovations to some 180,000 attendees across more than 2.9 million net square feet of exhibit space in Las Vegas this year.

CES has become one of the flagship events in the automotive industry due to the convergence of customer electronics and automotive technology. Many of the world's top automakers are choosing to unveil their new vehicles, new concepts and new technologies at CES.
New vehicle announcement
Byton showed their first car M-Byte SUV. The interior features a 48-inch screen, a 7-inch tablet embedded in the steering wheel and an 8-inch touch pad in the central console.
The new Nissan LEAF e-Plus was also revealed at CES 2019. The new model has a higher capacity battery pack, more range and more power.
Bell Helicopter unveiled a new flying car design called the Bell Nexus. Built in partnership with Uber, the concept vehicle brings the ride hailing company closer to its dream of launching aerial taxis.

New concept and technology
Kia showcased some of its outstanding technology, such as the SEED concept – its car-within-a-car concept – and Kia V-Touch, which does away with buttons, touchpads, and touchscreens by using multiple 3D cameras that can follow your eye and hand movements to determine what settings you want to change.
Meanwhile, the Hyundai Mobis displayed the brand's new autonomous vehicle lighting that is meant to prevent collisions with pedestrians. The vehicle can play with its LED lights to warn pedestrians of its next move.

Toyota presented the Guardian system, this driver assist system bridges the gap between fully autonomous vehicles and traditional vehicles. It monitors the driver's environment and sends an alert in case of danger.

Ford demonstrated how the use of vehicle-to-everything (C-V2X) technology with Qualcomm's 9150 chipset will let its cars communicate with other vehicles and traffic lights using 5G, starting in 2022.

Notable speakers
CES 2019 featured the following notable speakers:
– I.P. Park , LG Electronics President and Chief Technology Officer
– Danny Shapiro, Senior Director, Automotive, NVIDIA
– Ginni Rometty , IBM Chairman, President and CEO
– Amnon Shashua, President & CEO, Mobileye, an Intel Company & Senior Vice President, Intel Corporation
– Jada Smith, VP, Advanced Engineering, Aptiv
– Andrew Till, VP, Technology and Marketing, Harman International
– David Cohen, President, North America, MAGNA
– Jeremiah Golston, Global VP, Engineering for Automotive, Qualcomm
– James Schwyn, Chief Technology Officer, Valeo
– Corinne Vigreux, Co-Founder, TomTom