LIASE GROUP ATTENDS THE 2018 CONSUMER ELECTRONICS SHOW AND THE CONSUMER TELEMATICS SHOW
March 19, 2018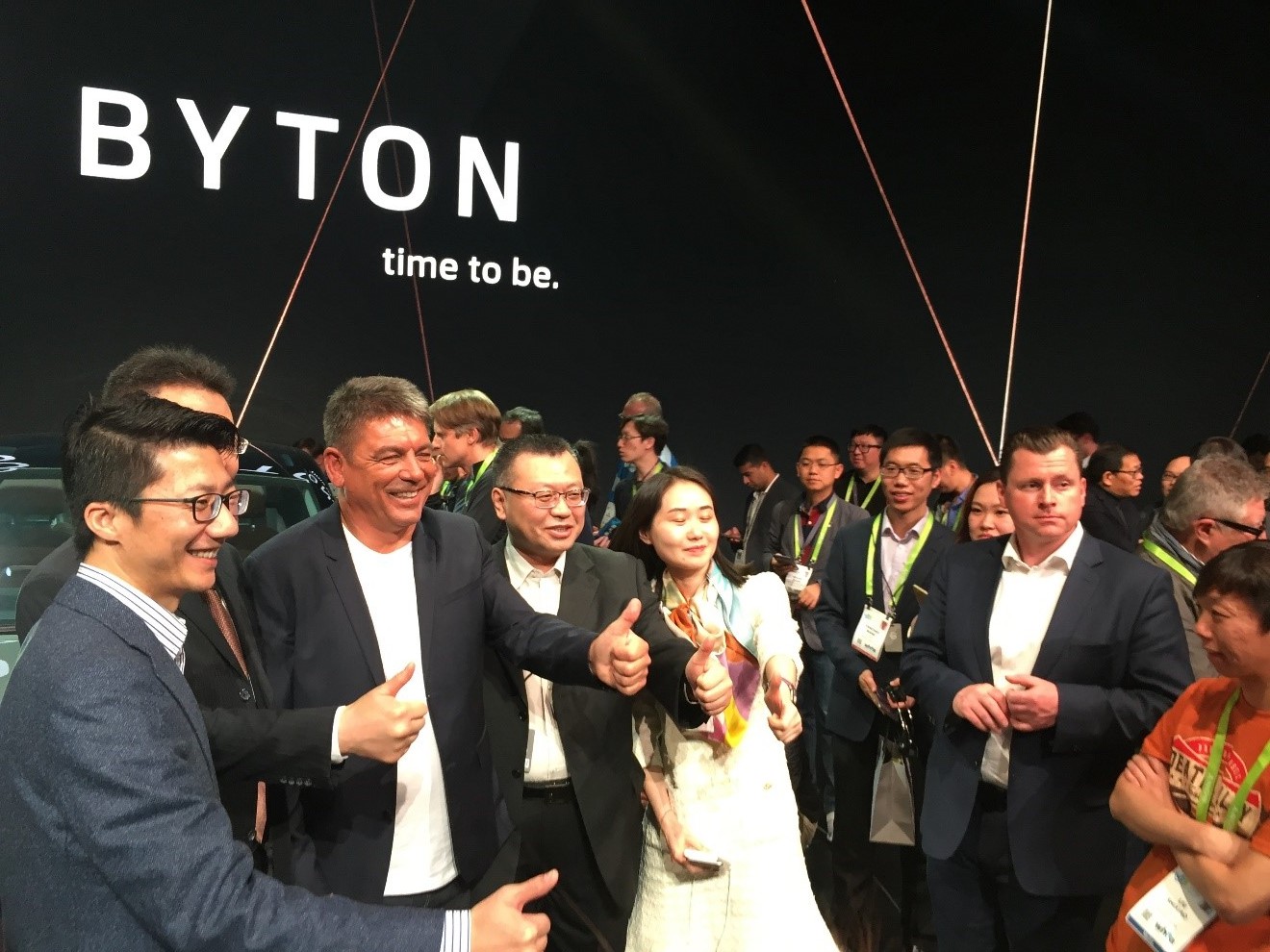 Dr. Carsten Breitfeld, CEO, Co-Founder and Chairman of the Board of Byton taking a picture with members of his team, including Ding Qingfen, Head of External Affairs, Public Relations and Government Affairs.
CES has become one of the world's major automotive shows. 2018 was no exception. Taking place January 9-12, CES 2018 featured all the hottest tech, futuristic ideas and autonomous news that can fit into a 290,000 square-foot exhibit space.

LIASE Group was present to network with global automotive executives and keep abreast of the latest industry trends.

Connectivity
This being the consumer electronics show, carmakers made a number of connectivity announcements.

Toyota announced Alexa is coming to some of its Toyota and Lexus cars. The Japanese automaker joins BMW, Ford and Hyundai in offering Alexa voice integration. Jaguard LandRover announced a competing HomeLink Connect technology to launch this year.

Ford announced that it's integrating Waze into its Sync 3 infotainment system, so users won't have to check or deal with their phones while driving.

Hyundai showed off an AI enhanced voice recognition technology that can monitor vital signs called the Intelligent Personal Cockpit.

New reveals
Byton, a Chinese electric vehicle startup founded by the former head of the BMW i8 program Carsten Breitfeld and the former managing director of Infiniti China Daniel Kirchert presented a concept SUV. The automaker promised a range above 300 km and a price point of US$ 45,000. The interior features a large display that spans the entire dashboard.

Hyundai showed off the new Nexo SUV with the company's latest generation of hydrogen fuel cell technology.

Nissan unveiled "brain to vehicle technology" that uses brain waves to sense when you are going to take certain actions. The technology does not yet have a release date.

Kia completed showed off a battery-electric concept with a 64-kWh battery pack allows 350 km plus range.

Delphi's mobility arm, Aptiv, showed a self-driving car. Working together with Lyft, the supplier offered self-driving rides to dozens of destinations.

Ford talks about integrated mobility
Ford built a small indoor street to showcase its vision of integrated mobility including cars, bikes, pedestrians and Ford self-driving vehicles.

Integrated mobility was also the topic of Ford CEO Jim Hackett's talk at CES. In his keynote address, Hackett talked about shared transportation and smart cities to help with the development of autonomous driving and connectivity.

The Detroit automaker unveiled a new self-driving platform with partners like Lyft, Domino's Pizza and Postmates. It also made announcement regarding its work with Qualcomm to install "vehicle-to-everything" (V2X) cellular technology in all of its cars.

The Consumer Telematics Show
Held the day before the start of CES on January 8, the Consumer Telematics Show gathered 500+ senior automotive executives to discuss topics including:
-Blockchain and automotive data
-Electrification, EVs and autonomy in the era of sustainable cities
-The role of consumer tech such as AR and digital assistants in redefining automotive UX
-Automated mobility on demand
-New business models for a new age of mobility

Notable speakers at the event included:
-Rajiv Phougat – CTO – Industry Solutions & Strategy, Automotive, Aerospace & Defense, IBM
-Nick Pudar – Director of Strategic Initiatives, GM
-Matt Jones – SVP Software Engineering, Hyperloop One
-Brad Stertz – Director of Government Affairs, Audi of America
-Danny Shapiro – Senior Director of Automotive, NVIDIA
-Kenny Hawk – CEO, Mojio
-Gil Perez – SVP, IoT & Digital Supply Chain, SAP
-Kenichi Murata – General Manager, Connected Strategy Department, Connected Company, Toyota
-Erik Ekudden – CTO, Ericsson
-Caroline Chan – VP, Network Platforms Group General Manager, 5G Infrastructure Division, Intel
-Richard Barlow – CEO, Wejo
-Joe Fabbre – Director of Platform Solutions, GreenHills Software
-Sinan Yordem – Global Ecosystem Manager – 3MTM Connected Roads, 3M
-Uri Tamir – Senior Director of Strategic Initiatives, Mobileye
-Kurt Hoppe – Global Head of Innovation – Connected Car, General Motors
-Alex Thibault – General Manager – North America, Vulog
-John Bukowicz – Managing Director – The Americas & Board Member, LIASE Group
-Lars Shultheiss – Head of Sales & Portfolio, Business Unit Infotainment & Connectivity, Continental
-Tom Freeman – Senior Vice President – Land Mobile, Kymeta
-Anne-Lise Thieblemont – Senior Director of Global Technology Policy, Qualcomm/5G Americas

LIASE Group was proud to serve as a co-sponsor of the 2018 edition of CTS.