LIASE Group Sponsors the 15th CEIBS China Automotive Industry Forum 2017
December 12, 2017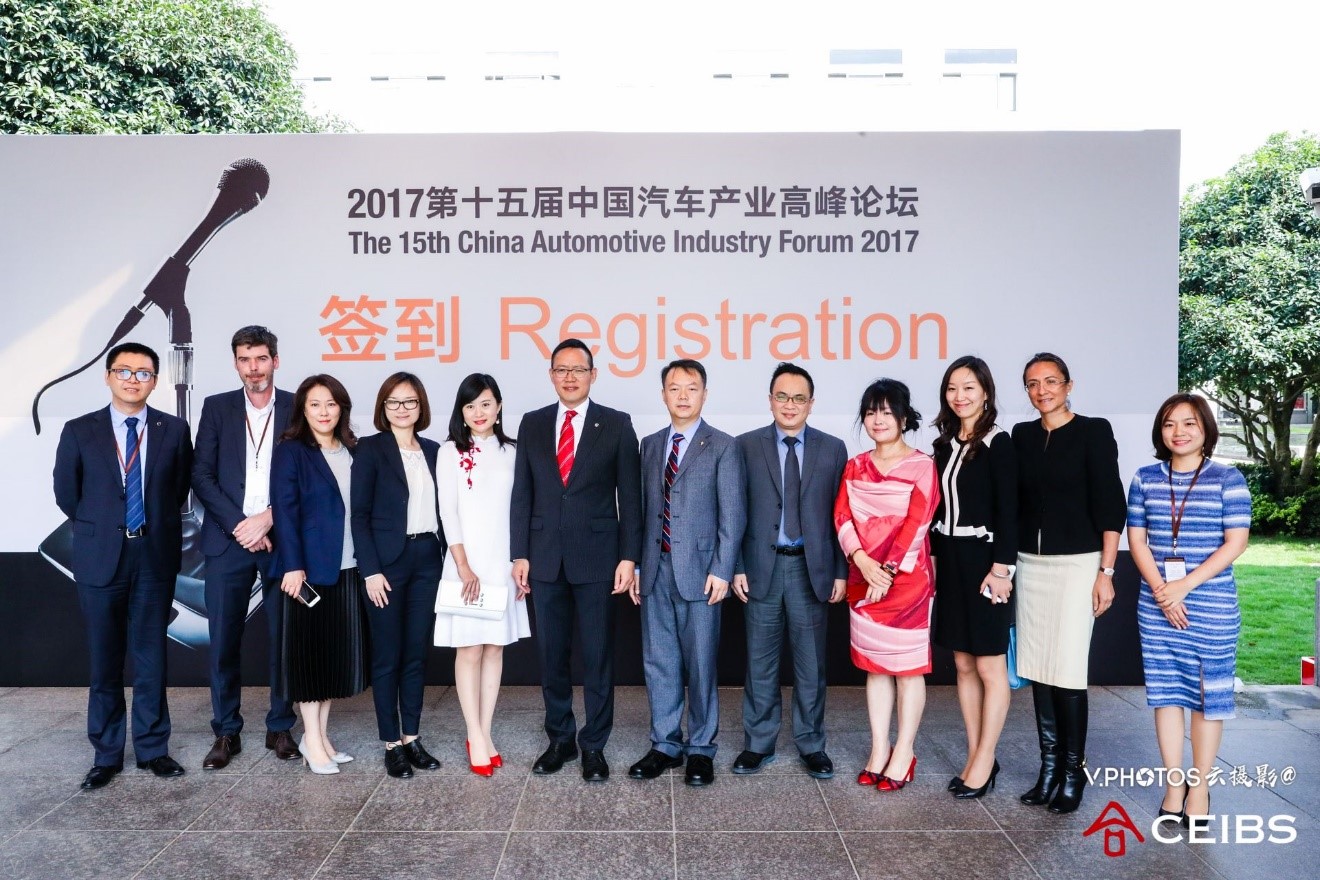 The LIASE Group's Vanessa Moriel takes a picture with a group of Volvo executives including Mr. Yuan Xiaolin, Senior Vice President, Asia Pacific, Volvo (center).
Changing trade patterns, connectivity, smart cities and clean mobility are just some of the trends creating challenges and opportunities for the global automotive industry. Are Chinese U.S., Japanese and European manufactures ready to deal with these challenges? What should be the role of public authorities in navigating these trends? Will the industry find common ground to deliver cleaner, safer, connected, automated cars?
LIASE Group was a sponsor of the 15th CEIBS Automotive Forum, which tried to answer the important questions outlined above. Taking place October 21, 2017, the event was located at the China Europe International Business School's main campus in Shanghai. This was a great opportunity for LIASE Group to meet senior industry executives, leading academics and government leaders from Europe and Asia to better understand automotive industry trends and opportunities for future growth.
Globalization, autonomous vehicles and clean cities
In a climate where the U.S. administration has signaled its intention to make significant changes to global trade regime, the global automotive industry is facing major challenges, perhaps the largest since the invention of the combustion engine. Not only does the industry have to deal with important environmental requirements, leading to massive investments in the in the development of new powertrains, but the pressure to invest in connected and autonomous vehicles is also driving unprecedented levels of R&D investments in the industry. At the same time, pollution and growing traffic problems require new ways of thinking about mobility, urbanization and the place of the car in moving millions of people every day.
To overcome these challenges, the auto industry will require a holistic, integrated approach, involving the industry, governments and citizens. But as those who attended CEIBS heard, it will above all require a change in mindsets for everyone concerned.
4 sessions and over 20 speakers
The 15th CEIBS China Automotive Industry Forum was organized around four key sessions.
Changing trade relations and the strategy of China's automotive industry
How will changing trade relations affect the automotive industry in the near future? Will China play an increasingly important role in multilateral and bilateral trade agreements among the major players? Are we witnessing a turnaround in globalization?
Digitalization, mobility and smart cities
What cars will be allowed to circulate in smart cities? Who will build the infrastructure? What are rules and regulations will be needed to create a smart city?
Automated and connected vehicles
Who will be building smart cars and who will be buying them? Will today's young customers continue purchasing cars as their forebears did? Does individual car ownership still have a future, or will car-sharing services and other mobility solutions replace the current model?
Clean mobility
Electric cars are seen as a solution for clean mobility and have received major investments, yet the technology has failed to take off with customers. When will the technology take off? Will other solutions such as hydrogen be adopted faster than electric cars?
To discuss these and other issues, the forum gathered over 20 speakers from the industry, government and from the academy. Notable speakers from the auto industry included:
-Lu Yongtao, Director and General Manager of SAIC Capital; Chairman and General Manager of SAIC Venture Capital
-Weiming Soh, Executive Vice President, Volkswagen AG
EVP Group Strategy and Sales & Marketing, Volkswagen Group China
-Yuan Mingxue, Vice President, Changan Automobile
-Christophe de Charantenay, Managing Director, Renault (Beijing) Automotive Co. Ltd; Vice President, Chinese Business Office of Renault China
-Enno Tang, President and CEO, Continental China
-Peter Zhou, Vice President, Banma
-Lu Qun, Chairman, Beijing CH-Auto; Chairman, Qiantu Motor
-Allan Stejskal, CEO, incadea (a Cox Automotive Brand)
-Jin Wenhui, Executive Vice President, Jiangling Motors Co., Ltd.
-Hyuk Joon Lee, Vice President, Hyundai Motor Group (China) Ltd.
-Bodil Eriksson, Chief Executive Officer, Volvo Cars Mobility
LIASE Group was proud to serve as a Silver Sponsor of this important discussion and continue to facilitate the development of strong leadership in the global automotive industry.