Nirmit Parekh

Managing Director India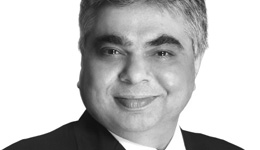 Nirmit Parekh is Managing Director India with the LIASE Group. Throughout his career, he has worked closely with automotive and industrial companies to identify and recruit world-leading talents for large Indian groups, multinational conglomerates and start–up ventures. Often cited as a pioneer in retained executive search, Nirmit' s more than 20 year career in executive search has predominantly been cross-border in nature.
As the Founder and Managing Director of 3P Consultants, one of India's leading executive search company, Nirmit has helped his automotive and industrial clients build their Indian and Asian team since 1990.
He has also played an active leadership role for the Indian recruitment industry. He is one of the founders of the Executive Recruiters Association and assumed responsibility as the Chairman of its Ethics Committee. In 2007, Nirmit was elected as Chairman of Penrhyn International, a role in which he served for two consecutive years.
Our business is based on trust. That is why we only use your confidential information for the purposes of conducting the assignments. We only disclose your information to other team members supporting the specific assignment, or candidates who need to know the information. Feel free to contact us.